Wednesday Review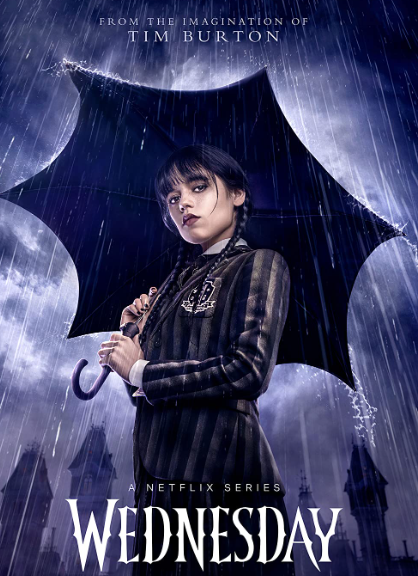 Wednesday, airing on Netflix as an eight-episode series, is a re-imagination of the 1960s sitcom classic, The Addams Family. The series focuses on the daughter, Wednesday Addams, as she attends a boarding school for youth with special abilities. 
I enjoyed the characters, the costumes, and especially the message. Jenna Ortega plays Wednesday Adams. Her performance was powerful and mesmerizing, and she plays the character well. For instance, I've never seen her blink once in any of the eight episodes. I also really enjoyed the character named Thing, who is a disembodied hand. He brings a lot of silenced humor. The outfits of the characters are so very reflective of their individual personalities. 
Jenna Ortega's portrayal of Wednesday Addams in the Netflix series "Wednesday" is a modern take on the classic character. Her style as Wednesday is a mix of gothic and preppy, with a heavy emphasis on black clothing and accessories. She often wears collared shirts, sweaters, and skirts with black tights and platform Doc Martins or combat boots. Her hair is styled in the iconic braided pigtails worn by Wednesday in the original TV series. Ortega's version of Wednesday is a strong and confident teenager who is unafraid to express her individuality and unique sense of style.
The message of Wednesday really stuck with me. Wednesday is an outcast amongst other outcasts. She struggles to be fiercely independent without any help from friends or family. She learns that some struggles are not surmountable without the help of the ones who love you. Whether it's a disembodied hand, a werewolf roommate, or your mother, we all need help sometimes.